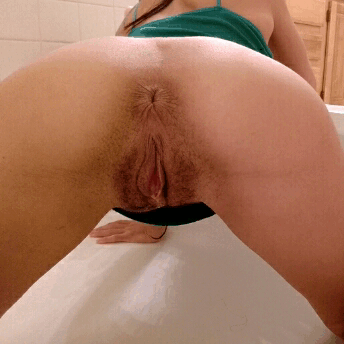 Scott comes home from his last final exam exhausted. Lindsey is lying on the bed vibrating herself, moaning and groaning as he walks in. She doesn't hear him open the bedroom door and undress himself, as he walks quietly over to the bed and slips his cock into her open moaning mouth. Lindsey's eyes shoot wide open, but relax when she sees who it is, as her orgasm flushes all over her body, her pussy convulsing in an intense orgasm. As she comes down from her orgasm, she slips his cock out of her mouth and starts jacking it as he kisses her passionately. Lindsey pulls Scott onto the bed, releasing his cock as she rolls him onto his back and kneels between his legs.
She asks him if he wants to celebrate the end of the semester in a big way. He says of course, as she takes his cock into her mouth while massaging his balls with her hands. He reaches down and plays with her tits, pinching them, squeezing them and massaging them, as she continues to suck his big cock. She stops sucking and sits up straddling his chest, having Scott suck on her tits while she rubs her clit. She slides back down and takes his cock into her dripping wet pussy, bouncing for a few seconds. She stops, gets off and swings around into a 69. She takes his cock into her mouth as he flicks her clit with his tongue, darting it in and out of her pussy and ass, as she takes his cock all the way deep, sucking it so good. He is so close to cumming, but she grabs his cock and stops him from cumming and says she wants it in her pussy.
Scott flips Lindsey over onto her stomach as he stands on the floor with her pussy and ass hanging off of the bed. He inserts his cock into her pussy slow at first, then pounding her hard as she is screaming in pleasure. He grabs the smallest butt plug and puts it in her ass, tightening her pussy as she squeezes his big cock. He is pounding away at her pussy as she cum all over his cock. He takes out the small butt plug and puts in the big one, making her pussy so tight that after only a few more strokes his cock erupts in her pussy, shooting his warm cum deep inside her pussy.
Scott pulls out after emptying his cum into Lindsey's pussy, and rolls onto the bed next to her as she crawls on top of him and kisses him. He asks her what she wants to do as a celebration for the semester being over. As his cum is rolling out of her pussy and he is playing with her tits she tells him that she wants one of the fantasies, but he gets to pick which one. He kisses her deeply; he is so excited that she wants to do one of their fantasies. He grabs her vibrator and holds it to her clit, getting her to cum again in a few minutes as they kiss in bed.
A few weeks later after much preparation, Scott tells Lindsey to leave her Friday night open. She asks why and he tells her that the fantasy is about to come true. Friday morning they take a shower together, after he fucks her again and he cleans her body all over, her beautiful body glistening and ready for a great night. He goes into her closet and takes out her black high heels, black stockings, black garter belt, black silk kağıthane escort thong, black bra and hoop earrings and tells Lindsey to put it all on.
Lindsey looks phenomenal in her outfit, at 5'4 100 lbs, with a 32 C and an amazing ass. At 6:00 PM the door bell rings and he tells her to answer the door wearing the outfit. She opens the door to a smiling group of men. Sam, Kevin, Ryan, Matt, Paul and Dylan all smile and enter the house. Lindsey turns to Scott and kisses him hard on the lips as Paul grabs her ass as he walks by.
Lindsey asks what the plan for the evening is. Scott has Lindsey follow him downstairs as the guys follow, all smiling and rubbing their big cocks. In the basement is a large round table set up for a poker game. All the guys take their seats as she sits on Scott's lap and he explains the rules to everyone. They are playing 5 card draw poker, and whoever wins that hand gets a prize — Lindsey. Before each hand she will take a piece of paper and write down the prize for that hand. The guys all agree, as she takes a piece of paper and write down the prize. All 7 guys play the hand, everyone dying to get a piece of her and Matt wins. He grabs the piece of paper and reads it aloud to the group. Matt has won a lap dance for the entire next hand. Lindsey gets another piece of paper and writes down the next prize. Then she walks over to Matt and straddles him, grinding her pussy and ass all over his rock hard cock which is straining the fabric of his shorts. She rubs her tits all over his face, as he motorboats and licks her cleavage. Matt goes to grab her tits, but she tells him no, lap dances have no touching by the man. He laughs and says ok, and grabs his cards. The rest of the guys all purposefully take a while with the hand, enjoying the view as Lindsey grinds her body all over Matt.
Kevin wins the next hand, barely edging out Dylan. Kevin grabs the piece of paper and reads it aloud to the group. He gets a hand job for the duration of the next hand. Lindsey hops off of Matt as he moans in agony, sad that his lap dance is over. She reaches down and grabs his cock through his shorts, telling him he will get plenty more later tonight. She seductively walks over to Kevin, stands him up and gets on her knees. She reaches up and unzips his jeans. He's not wearing any underwear so his big 9 inch cock pops out and hits her in the face. She gasps at his size; her hand doesn't fit around it. She brings her left hand up too, working both of her hands up and down his cock, as Kevin sits back down and we deal out the cards. He reaches down, unhooks her bra and starts playing with her tits, as she offers no objections enjoying his big cock, playing with it in her hands, slapping it against her tits.
The next hand is a close one, Sam wins, just barely beating Scott. Lindsey forgot to write a prize down, so she quickly grabs a piece of paper and writes down the prize. Sam reads it aloud to the group. He is allowed to do whatever he wants to her during the next hand, with his hands, no cock. She walks over to him, and lies down on the table, as all of the guys agree that they can play around her for a better view of her magnificent body.
Sam reaches up and grabs Lindsey's tits, pushing them together, rubbing them, teasing them, and pinching her nipples. She is squirming around as he stops, and his hands travel down to her pussy. He rubs her pussy through the silk thong, and starts to pull it down. He slips a finger into her dripping wet pussy, as she moans in ecstasy. He slips another finger in to her pussy, and puts another in her mouth. Lindsey sucks on his finger hard, as he is rubbing her G spot hard and fast. He takes his finger out of her mouth, and works it into her ass, as all the guys cheer as Sam loosens her up for the rest of them later.
The next hand Scott wins easily, as everyone else was distracted by Lindsey's gorgeous body squirming around. She gets off the table, thanks Sam for a great time, and writes down Scott's prize. He reads it aloud and he has won a blowjob. Scott stays seated; as his cock was already out, all of theirs were, as they jacked off watching Lindsey get fingered a few minutes ago. Lindsey comes over to Scott, gets on her knees in front of his chair, and starts sucking his cock hard and fast. He signals for the rest of the guys to get up and come over. They move the table out of the way, and make a circle around her, all standing, with their cocks pointing straight at Lindsey's mouth. Lindsey goes in a circle around the group, from Scott, to Kevin, to Sam, to Matt, to Paul, to Dylan, to Ryan and back to Scott. After she has sucked everyone for a minute each, Lindsey stands up, still sucking Scott, but arching her back to bend over to suck.
As Lindsey sucks Scott's cock standing up, Sam slips his cock into her pussy, as she jacks Kevin and Ryan while still sucking Scott. The other guys stand around jacking off and feeling her tits. The guys vote to rotate, as Ryan takes a seat and Lindsey starts sucking him, she starts jacking Scott and Dylan while Matt starts fucking Lindsey from behind. The guys rotate like this every minute, until everyone has gotten a taste of her pussy and mouth. Sam lies down on the floor, as Lindsey straddles him and takes him into her warm wet pussy. Ryan stands in front of her as she sucks him. Scott gets a butt plug out and starts working it in, to loosen her up some more. Once Lindsey is loose, Paul decides to fuck her ass. Lindsey jacks Scott and Kevin, while Matt and Dylan grab her tits, as Lindsey enjoys all 7 guys at once. All 3 of the guys inside of Lindsey's holes are moaning, as they love the tightness of her holes. She is bouncing like crazy on Sam and Paul's cocks, feeling so tight and full as they pound her hard and fast. Ryan is just standing still, letting Lindsey bob her head up and down on his cock, feeling the vibrations from her moans on his cock.
Paul is the first to cum after a few minutes, as he shoots his warm cum deep into Lindsey's ass. Scott decides to take over in her ass, fucking her hard and fast right away, as Ryan moans loudly, shoves his cock as deep into Lindsey's mouth as she can take it and shoots his cum down her throat, cumming so much that some starts to dribble onto her chin. Matt takes over for Ryan in the mouth, face fucking her, as Sam screams in pleasure and cums deep in her pussy, coating Lindsey's walls with his warm, wet, cum. Dylan slides under her and takes over for Sam in her pussy. They fuck like this for 5 minutes, all the guys pounding Lindsey while Paul, Sam, and Ryan relax and recover. Scott tries to hold off, giving it to Lindsey for as long as possible but eventually he succumbs to the pleasure and cums next in Lindsey's ass, as Matt pulls out of her mouth, already lubed up and takes over for Scott in Lindsey's ass. Kevin shoves his cock into Lindsey's mouth, as he is the last one to get some action in the gangbang. Dylan is still pounding away at her pussy with his huge cock, as she tries to fit all of Kevin's enormous cock in her mouth. Lindsey is being stretched to the limit, as she cums for the first time from the pure girth of Dylan's cock. Matt cums from her ass squeezing his cock during her orgasm, shooting his cum deep into her ass, her third load in it that night. Dylan's huge cock starts to spasm uncontrollably shooting what feels like a gallon of cum deep inside of Lindsey's pussy. Kevin pulls out of her mouth, flips Lindsey onto her back, and slides into her pussy, as the rest of the guys cheer him on.
By now the room smells like sex and cum. Lindsey has 3 loads of cum leaking out of her ass, 2 from her pussy and one dribbling down her chin. After 3 more minutes, Kevin moans loudly and pulls out, shooting his cum all over Lindsey's tits and face. Everyone cheers as he finishes and Lindsey smiles, after experiencing ecstasy in her gangbang. The guys help her up and carry her to the bath which Scott has already filled with hot water and bubbles. Sam, Ryan and Scott get in the bath with Lindsey, washing her all over as she relaxes and recovers. Cum is still running out of her holes, as the guys let her fall asleep with her head on Scott's shoulder as the rest of the guys go sit down and play some regular poker.
Scott wakes Lindsey up a few hours later and carries her out of the tub, as he dries her off; she thanks Scott for an amazing evening. He whispers, no thank you, and it's not over, you got us off, we are getting you off. The guys have brought a mattress downstairs as they lay her down on it on her back with her ass hanging off the edge. Scott starts kissing her on the lips, face and neck as Ryan and Paul each take a nipple each in their mouth. Sam get underneath Lindsey and starts licking her asshole as Dylan starts licking her slit and hole, as Kevin flicks her clit with his tongue. Matt is massaging her belly, kissing it all over. Lindsey is in pure ecstasy, as she has 7 men taking care of everything she needs. Lindsey orgasms 3 times in the next hour as the guys lick kiss and suck her to back to back to back orgasms. The guys all thank Lindsey and leave, as Lindsey and Scott go upstairs to their king sized bed, and he cuddles into her, both of them naked, sleeping all of Saturday away, him pampering her and thanking her for fulfilling one of their fantasies, as they promise to do it again.