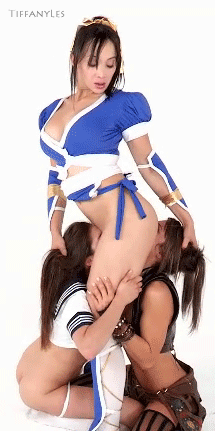 6th Day The Game
I woke up early in a very good mood, I must admit. I shaved myself, tied up my room and started working. Being very careful not to make any noise, I went to Madame's bathroom to prepare everything for her. I made sure that the tab was full of hot water, dry towels were at hand, foam bath, conditioners and beauty things that might be required were all there.
I then went downstairs to prepare her usual breakfast dish. I caught myself whistling softly. Yes, I was really happy. Yesterday, I think that I proved to my Madame my total devotion to her. She must know by now, I thought. She must have realized how I feel about her. Oh God, if you could show me any other way to prove my total submission to her!
Coffee, orange juice, toasted bread, butter and marmalade were all on the dish when her bedroom bell rang.
I rushed upstairs, holding the dish carefully in my hands.
– May I enter Madame? I asked
– Come in slave! she said.
– Your humble slave bids you good morning.
I entered her room and placed the dish on her lap, carefully holding my eyes down. I then assumed my usual kneeling position my her bed. She started eating her breakfast. If only I was allowed to look at her face! I could maybe understand her thoughts about me. Of course I didn't dare looking at her in the face. My eyes were fixed to her feet under the bed sheets.
– How was your day yesterday? She finally asked me.
– I think that I did quite well Madame, I replied. My only thought was to follow your orders, to keep you satisfied. I'm afraid I did some mistakes, but Miss Angela was kind enough to point them out to me in her own good way. But I can assure you that I won't make them again. I hope that you humble slave hasn't disappointed you.
– We'll see about that; I'm meeting her later in the morning. I hope she was generally satisfied with your services. I don't want her to think that my personal slave is worthless.
Anyway, I wish to take a bath. Is everything in order? She asked.
– Yes Madame, everything is in order.
She sat on the bed, while her beautiful feet rest on my palms, to receive her usual worship.
I kissed her divine toes with gentleness and passion. She let me worship her feet for a longer time than usual. Maybe she wanted to make sure that I was still her obedient slave. Or maybe to make me see that her toenails needed my tender attention. In fact the polish was not shining according to my standards. Who knows…
She then pushed me away, pointing to her slippers.
I carefully put them on and followed her to the bathroom.
She slipped herself in the bath tab, handing me her night gown behind the drown curtains I helped her with her bath, as I did the other day, gently scrubbing her body with a soft sponge. When I reached her feet, she started playing with my face, using her foam soaked feet. She used her right sole to rub my face, leaving me full of foam wetting my hair. She then took my nose in between her toes, occasionally squeezing, while she pushed her left foot in my mouth, leaving me without breath. My mouth was now full of foam and tasted bitter. But I didn't complain.
Finally she ordered be to bring her a large towel, which she wrapped around her body while she was coming out of the water.
Yes, I told to my self. She is a real Goddess. How lucky I was to be her slave! She's so beautiful! She's so divine!
I knelt to the floor, in front of her placing soft kisses to her wet feet.
– I'm your humble slave Madame! Your wish is my command. Thank you ever so much for giving me the privilege to serve you.
She slightly raised her right foot. I immediately understood and placed my left hand under it facing up. Stepping on my hand, she raised the other foot and I put my right hand underneath. Now she was standing on my palms, while I was still kissing her feet. I took a glance at the large bathroom mirror. The scene was thrilling!
There she was, standing on my hands, holding her balance on the wall, in complete power, while me, her slave, her foot carpet, was placing kisses on her feet, showing his total devotion to her. Yes! I' m sure I've found the meaning of my life! I was born and grew up, only to become Madame's dedicated slave. There is nothing else I could ever wish for. Being her humble slave, is what's right for me. Obeying her orders is the only thing that means to me. I was now absolutely sure that she was the only person who knew what's good for me.
As I could occasionally see from the mirror, she was looking down at me with a smile of satisfaction. Her face showed her absolute power over me, literally and mentally. My hands felt numb after all this pressure on them.
She then lied down on the easy chair and I started drying her hair. She didn't pay any attention to me, apart from giving me orders on what I should do next. I gave her a manicure as before and a more professional pedicure than the other day. I didn't have to soak her feet with my mouth, since they were already soaked from the bath. All this time she Anadolu Yakası Escort was reading a fashion magazine, sometimes giving me orders and advice about beauty tips.
This time she told me to paint her toenail a light pink, that make them look so tender and beautiful. I dried her toenails with my breath as usual and went on softly massaging her feet with lotion.
By the time I finished, her feet were in perfect shape (and so was the rest of her). I started kissing her toes, to show that I finished. She didn't pay any attention to me. I went on kissing her feet, since I realized that this was her wish. My lips were full of lotion from her feet.
Finally she looked down at me.
– You did a fine job with my feet, slave! I must admit it. I'm very pleased with your services. I hope you keep up the good work.
– Thank you very much Madame for your nice words. They are the best present that a slave can have. I'm so happy that I was able to serve you properly.
– I think that you'll make a very good slave after all. You are not only learning fast, but you seem devoted to your Madame with sincere feelings. With my instructions and training you'll become quite good in serving a woman like me. So far so good, but always remember who's the boss.
Giving her a last kiss on each one of her pink painted toenails, I put her slippers on and followed her to her bedroom.
I helped her with her clothes. She then sat on a chair, ordering me to put her stockings on. I knelt before her and she extended her right foot. Very carefully I slipped the stocking up her toes, to her heel, up her knee. There she told me to stop, offering her left foot. I put the stocking on her foot and bowed my head down at her feet. She stood up pulling the stockings up her shapely legs. She then sat down, for me to put her shoes on. This time she chose a pair of black high heel pumps. I could not help but kissing her shoes many times, showing my total devotion to her.
– I'll be back in the afternoon. Have dinner ready, she said.
– May I ask if Madame wishes something in particular for dinner?
-Oh yes! Good thinking. Something light, perhaps spaghetti Bolognese with a juicy fruit salad. And don't forget your lovely cake.
I have to go now, she said and pushed me away with her foot.
She stood up and went downstairs. Soon enough I heard her car driving away. I was alone in the house and so many things to do! Would I make them all up in time? Calm down I said to myself. You'll do fine. Madame said that you're a good slave. She must be satisfied with you, she knows better than you. Put yourself together and better write down what you have to do, in case you forget.
I went to my bedroom and made a list for the things I had to do:
Clean the bathroom.
Make Madame's bedroom.
Clean Madame's shoes.
Clean the Kitchen and do the dishes.
Sweep the floor.
Prepare dinner.
Take a shower.
Well, I thought. It's not that bad, let's get started.
It's very important having a plan for your work. Moving around Madame's house, I did my chores, looking at my list, almost timing myself. By noon everything was ready apart from dinner and my shower.
No time to waste, I thought. I rushed to the kitchen to prepare dinner. The phone rang. I picked it up.
– Madame Smith's residence…
– Hello Madame!
– I finished cleaning up and I'm preparing your dinner. What are your orders? …
– Everything will be ready Madame. I'll do my best to keep you and your guests satisfied…
– Of course Madame! Dinner for four. Everything will be in order when you and your guests arrive…
– I perfectly understand Madame. I won't disappoint you…
– Your humble slave bids you good day …
I must be very careful. Madame had invited three of her friends for dinner. Miss Sheila, Miss Angela, and Miss Kate. They'll be here by five p.m. I remembered Miss Sheila; I was ordered to kiss her dusty boots, during Madame's get well party. And how could I forget Miss Angela! I was at her house only yesterday! I didn't know Miss Kate, but I was soon to find out.
I put all my efforts to prepare Madame's dinner as best as I could. It was about four thirty when dinner was ready, the table was set and I went upstairs to take a shower and get dressed for the occasion.
At five o'clock I assumed my kneeling position by the door, waiting for my Madame, holding her slippers in my hands.
I didn't have to wait long. Soon I heard her car approaching. I heard them laughing outside the door. I was so anxious! The door opened. I bowed my head down. I could only see four pairs of shoes. The last one was my Madame's. I kissed them passionately.
– Good afternoon Madame! Your wish is my command, I said
– Hello slave. I hope dinner's ready. We're starving.
They went straight to the living room and took their seats around the table. Madame didn't bother to have her slippers on. I served them dinner and poured some wine in their glasses. They Bostancı Escort didn't pay any attention to me at all. They were talking and laughing all the time. Madame addressed me only to give me orders about serving them and pouring some more wine.
– Lovely dinner, Miss Angela said. You're so lucky to have him my dear!
– You think so Angie? Thank you very much, Madame replied.
– I must say I'm impressed, Miss Sheila added. It's hard to find good servants these days. Well done Samantha!
– Let's go and sit at the couch, Madame said. Slave make us some coffee.
They sat down and I rushed to the kitchen to make coffee. Soon I came back with coffee and cakes. I served coffee and cake and knelt by my Lady. Miss Sheila was sitting next to her, Miss Angela took her place in an arm chair on the right while Miss Kate sat opposite to her to the left.
Madame extended her beautiful feet. I placed them on my lap and very gently took her shoes off. I kissed her stockined feet. She lowered her stockings to knee height and very carefully I pulled them off, revealing her divine feet in all their beauty. I kissed her naked sweaty feet and put her slippers on.
– Sheila, would you like to take your boots off, Madame asked.
– Yes of course, she said.
– Me too, Miss Angela added impatiently.
– Don't forget me, Miss Kate added laughingly.
– Come on slave, do your duty.
I assumed my kneeling position in front of Miss Sheila's booted feet. She extended her feet and I pulled her boots off after kissing them gently. Her feet were a bit smelly but I didn't mind. I went on pulling her stockings off, revealing her beautiful feet. I finished by placing soft kisses on her smelly toes.
I then went to Miss Angela. I kissed her shoes and took them off. She rubbed her sweaty feet on my face. She deliberately pressed my nose with her soles, to inhale her foot aroma. Finally she let me pull her stockings off. She pressed my face on the floor, resting her feet on my head.
– Samantha dear, don't you think his face makes a nice foot stool?
– Yes Angie, how cute.
– I think that his face is made for my feet. Look how nicely my sole rests on his cheek. Perfect match!
– Nice pedicure Angie! Where did you get it? Sheila asked.
– Well it's our little secret, isn't it Samantha?
They all laughed.
– Hey Angela, don't you think you had enough? Miss Kate asked. I want to have a go too.
– OK dear, he's all yours. But first he has to kiss my feet as well.
She lifted my face with her left foot, while she pressed her right sole on my mouth. I placed soft kisses on her wet sole an toes.
– Come on slave, Miss Angela said. Say something cute. Please me you miserable subhuman!
– It's a great honor to kiss your glorious feet Miss Angela! I said. Thank you ever so much for allowing me to kiss your tender soles!
– How cute! Well done slave, Madame said and they all laughed.
Now it was Miss Kate's turn. She was sitting opposite to Miss Angela, her shapely legs crossed. I stood up and walked towards her. I hadn't met her before, so I couldn't know her intentions. She wasn't in Madame's party the other day. I was sure about this.
-Hey stop! Miss Kate ordered. Not so soon. I want you to crawl to my feet. On your belly slave. Crawl, swim to my feet!
I lied down on my belly and started crawling.
– Like a fish out of water! Miss Sheila giggled.
Finally I reached Miss Kate's right foot. Her left foot was crossed, dangling impatiently. I kissed the tip of her shoe.
– What is your wish Miss Kate? I asked with a sincere voice.
She uncrossed her legs and rest her left foot on my head, pressing hard to the floor. I had the chance to see that she did not were stockings. It was the shoe leather between me and her naked feet.
– Take my shoes off slave. But you must not use your hands. Your mouth should be enough, she said meaningfully. Kneel and put your hands at your back.
She lifted her left foot towards my face. I took the tip of her shoe in my mouth and started pulling. At the same time she bent her toes downwards, making it impossible for the shoe to come off. She laughed
– What's wrong slave? Can't you even take a shoe off? You worthless idiot! You're supposed to take it off, not eat it! Try again. She crossed her legs.
This time I bent forward, passing my head under her sole, grabbing her pointed heel in my mouth. I gently pulled. I was lucky. The shoe came off. I left it on the floor and started kissing her naked sole. She had baby soft sole.
– Forgive me Miss Kate for being so clumsy. It won't happen again. May I take your other shoe off now?
– Yes, you may do so! She replied, swapping feet.
I took her other shoe off the same way. I started kissing her sole. She bent down and slapped me on the face.
– That's for being clumsy.
She slapped me again
– And that for not being clumsy in the future.
They all laughed loudly. I took Miss Kate's beautiful Erenköy Escort foot in my hands and kissed it obediently.
– I'm so sorry Miss Kate to have upset you. Please forgive me!
She totally ignored me and turned to Madame.
– Samantha love, you told me about your new pet, but he's got a lot to learn yet. He's keen, but still untrained. Maybe he hasn't understood his position yet.
– Come on Kate, Madame smiled. Don't be so hard on him. I've only got him for less than a week. Of course he's not properly trained yet, but he learns fast, I think. And frankly, maybe I'm not that good in training. I never had a slave before.
Miss Kate pressed my head hard on the floor, and rest her feet on my face. I lied there motionless. She then went on with the conversation.
– Well, I never had a slave before and I think I never will. Some people get all the luck, she sighed. But I could think of a lot of things to prepare him for his slave duties, as long as I'm convinced that he's qualified for the position.
-What do you mean Kate? Madame asked. I think he's dedicated to me isn't he?
– Maybe so, but all this time, he gets orders from me, without seeking your approval. You call this devotion? If I had a slave, I would demand to get orders from me only, unless I told him otherwise.
– Come on Kate, Angela said. I had him yesterday, and he only obeyed me because Samantha told him to do so. Don't you call this devotion?
– I'm not sure, she giggled. Maybe you're right. But I still think that he is to obey his Mistress and always be able to spot her out.
She rubbed her soles against my forehead.
– What do you think slave, do you know who your Mistress is?
– I totally belong to Madame, I said firmly. I would recognize her everywhere.
– Let's have a game, shall we? But first Samantha I'd love some more coffee.
– More coffee for me and my friends, slave, Madame ordered.
Miss Kate pulled her feet from my face and I rushed to the kitchen to make some more coffee. Somehow I felt that coffee was just an excuse for not listening their plans. In fact I could hear them whispering and laughing, but could not make out what they were saying. I was soon to find out.
After a couple of minutes I went back in the living room and poured some more coffee in their cups.
– Get me a scarf from upstairs, a piece of paper and a pen .Bring your dog leash too. Madame ordered.
– Certainly Madame. Your wish is my command.
I went upstairs, picked my leash from my bedroom and a long scarf from Madame's wardrobe. I also picked her notebook from her desk. I was worried that something was going wrong. I felt upset and confused. Did I make a mistake? Did I do something wrong? I came down and knelt by Madame's feet, giving her the things she asked.
Miss Kate stood up, took the scarf and using it as a blindfold she covered my eyes. I couldn't see a thing. I felt someone grabbing my hands and securing them at my back, with the dog leash. I was then kicked down on the floor. I was beginning to feel scared by now. What were they up to? Miss Kate said something about a game, I remembered. Was I part of it?
Then Madame began talking.
– Kate had a lovely idea. We're going to play a game. We, or better say Kate just invented it to prove her point. We call it 'Spot that foot'.
They all laughed.
– The first part of the game is quite simple. You only have to guess if the foot that touches you belong to me. Madame said. You just say 'yes' or 'no' Let us begin.
Suddenly a sole pressed my face hard, squeezing me to the ground. I could hardly breath. Whose foot was it? How was I to find out? Think fast I said to myself. Or you' choke to death. Yes that's it. The smell. How didn't I think of it before? I had been kissing Madame's feet many times for the last few days. Yes, I re member their aroma. How could I forget? Concentrate, I said to myself. Definitely this smell does not belong to Madame.
– NO, I stumbled.
– Don't say anything Sheila, Miss Kate spoke. Just write 'R' for right and 'W' for wrong.
Another foot came down on me, forcing me to open my mouth to accept her toes. The owner of the foot spread her toes inside my mouth. I had to open wide in case I hurt her. Remember the smell!
-NO!
– Bring a chair, will you? I heard Angela saying. (At least I could understand their voices).
This time a pair of soles pressed hard on my cheeks. Her heels landed on my blindfolded eyes. How could I be wrong? I could recognize this aroma between hundreds of female feet. It meant so much to me. It must be Madame's divine feet resting on my face. I had no doubt about it. I could even recognize the fragrance from the lotion I put on them in the morning.
– YES, I said firmly.
Another foot came down on my face, squeezing my nose between her toes. All of them were laughing now. But I was quick enough to catch the smell.
– NO
The game went on for quite sometime. Madame's feet came down on me a couple of times, if I'm not mistaken. My face smelled like feet by now. But I didn't mind. I only hoped that I was right in my answers. I wanted so much to please my Madame. To prove her that I was able to recognize her in any situation, no matter what. To prove her that I was worthy of her trust.