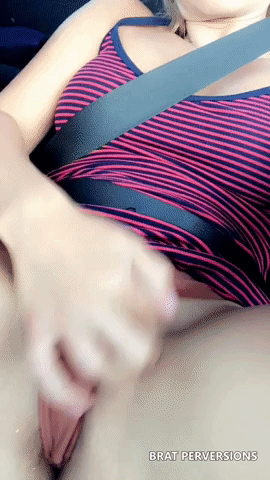 I got a little carried away with my make-up. Your make-up fits on a continuum beginning with 'nun' and extending through various professions and life stages. I've never had tolerance for 'desperate housewife' and have rather preferred to advance to 'high class escort' or sometimes even 'porn star'. My husband, so very visually stimulated, always prefers porn star (bless his heart). This time, however, I took it further than I had ever – I almost, but not quite, reached the level of Fox News Anchorwoman. I thought that I might look too much like a whore to leave the room. My husband disagreed, and led me to the hotel bar.
"Are you sure, hun? This isn't really like you." And it wasn't. In all our years together he had never expressed the desire to see me flirt with strangers.
"Yep, I'm sure. Just be ready to leave if I need you to!"??
The bar was unremarkable. Just your standard, run of the mill hotel bar. The room was dark enough to provide cover for those who did not belong, but light enough to find someone who might. The difference between this bar and the hundreds that I had previously visited was the visitors – virtually every one but my husband a stranger – and the country music playing softly in the background.??
My husband had entered the bar a few minutes before I did, and then sat waiting to watch me enter. I hope he enjoyed the view. My behavior entering the bar was subtle – I simply walked confidently to the bar and took a seat. My attire, however, was anything but subtle. A red mini dress will always draw attention, but one with a drape neckline and made of polyester and spandex can get you in trouble. And I was looking for trouble.??
The bartender, ignoring some who had arrived before me, came to me immediately. "What can I do for you, pretty lady?"??
"I'd like something to match my dress."??
"How about a bartender?"??
"I was thinking about a pinot, but I appreciate the options!" We both laughed as his polite flirtation.??
It has been amazing to experience the behavioral transformation that has followed my physical transformation. The flirting with the bartender felt relaxed, expected. The eyes watching me enter the bar were comforting, not terrifying. The gentlemen that approach are welcome, even if our meeting ends up being just short and friendly. ??
I have grown very comfortable in heels, and the 4″ pair I had on matched my dress perfectly. I have similarly grown comfortable with my body, which has transitioned from 'tomboy' athletic to Hollywood sexy. My husband has paid well for this transformation, and the transformation has paid off for me.??
"Goddam, you are one sexy lady!"??
"And you are one bold *young* man!"??
"Ain't that young. I'm Billy, what's your name."??
"Married woman. Very nice to meet you!" We both laughed at my response.??
"Married? Really? Are you trying to break my heart?"??
"I don't plan on breaking anyone's heart."??
Even with my slight rebuff, Billy pressed on. "Alright, alright. You can at least let me buy you a drink until your husband gets here."??
"I'd like that, but my husband is out of town." This, of course, was absolutely true, as we were very far from home. My husband would laugh about this later tonight, I thought, once the game was over.??
"Well then you're going grup escort to need some protection. I'll just stay here with you and make sure that nothing goes wrong. How about that?"??He was cute, although a bit too young for me. Size is always attractive, and he was a big man, maybe 6'4″ or more. At 5'2″ I was at a perfect size disadvantage.??
"Are you a cowboy?"??
"Why, because this is Texas? Naw, but I'll try it if it keeps you with me longer tonight."??And this is how the conversation went. Gentle flirting infused between actual communication. Billy was a collegiate athlete, was studying for a career in business, and was just out having fun.??
"Look, my friends are over there. Do you think your husband would mind it if we danced? It'll drive my buddies crazy."??
"I'm not sure how my husband would respond, but I'd like to dance."??
Billy was a good dancer, and he taught me the 'two step'. I felt very small in his arms, and his arms felt very strong around me. He kept me pulled tight to his body, and my body was responding to his heat.??
Perhaps sensing this, my husband caught my eye. He sent the signal – time to go. ??
"Billy, I'm sorry, hun, I have to run for a second. I'll be back soon." I was pretty sure I just lied to him.??
– Part 2 -??
I rushed out of the bar, and just caught a glimpse of my husband entering the elevator. He was rushing back to the room! I jumped into the next elevator, took it to our floor, exited and rushed towards our room. The door was already open.??
I entered quickly, closed it behind me, and walked toward the bed. My husband was there already, his naked body covered by the sheet, but his excitement obvious.??
"That was so hot, babe! I loved it – and hated it – when you two danced."??
"It was all for you, hunny. I'm here now, and he is long gone."??
"No – not gone. Go back and get his number, you might want to call him tomorrow."??
"I'm happy where I am. I don't need his number."??I moved toward him and tried to kiss him, but he pulled away.??
"Lets not ruin your make-up, babe. You want to look nice for him when you see him in a few minutes."??It was no use fighting him.??
"Then why did you want me now, hun?"??
"Let me show you!"??And with that he reached out from under the covers, ran his hand slowly up the back of my dress, and grasped my panties.??
"I needed you now because I am hungry."??His hand motioned me to the bed, he pulled my panties from me, pushed my dress up over my hips, and pulled one of my legs across his face. He then began to taste, and to tease, and to please me. Using both hands, he pulled my hips down and buried his face into me. His loving tongue, which knows me so well, explored my body.??
Enjoying my husband's efforts, I slumped forward. His penis, still hard, remained needy beneath the sheet. I took it in my hand, grasped it firmly, and waited. I expected him to give in, to throw the covers aside, and to make love to me. But he did not.??
Instead, he continued to lick me and probe me and suck me into his mouth. His hips, working without his permission, began to thrust. He thrust himself through the sheet and through my hand. His thrusts mirrored his tongue, his penis darted into my hand as his tongue darted into eskort bayan istanbul me. Our build-up was undeniable, was easily read, and we came together.??
"Oh my God, baby that was awesome! Make love to me!"??
"Not yet, go get his number. I'll change the sheets. But be fast – I want more tonight!"??
– Part 3 -??
I could have pretended, made up a number, and then gone immediately back to the room. But I didn't. I made my way back to the bar. The mirrored elevator walls told me my husband was right – it was best not to ruin my make-up. I would still turn heads when I entered the bar, and Billy would no doubt forgive my absence. ??
The trip to the bar was more exciting than expected. It was if I knew a secret that no one else did. Perhaps it was what just happened, or what would happen once I returned from my errand. Most likely, though, it was the combination of what my husband promised and the feeling of walking through a hotel pantiless. ??
I love feeling free, and I love knowing that my husband needs more. Our lovemaking is always wonderful, but on the rare occasions when he can come twice, the event is spectacular. He gets quite aggressive, and my body responds to that form of directed attention. And more, he extracted an orgasm from me. For me that is just the beginning, as one makes me long for a second, and a second for a third.??
My mind was filled with sex as I made my way to Billy's table. Billy was in the middle of a conversation with his friends when I interrupted.??
"Hey Billy, sorry I had to run."??
"Hey – you're back. Sit down, meet my friends."??
"Sorry hun, I have to run. I was hoping you'd give me your number."??
Billy stood, took my hand, and said come with me. "Lets step outside, I'll give you my number there."??
We exited the bar, but then immediately turned into a function room. By the look of it there would be a wedding there tomorrow – a head table, many round tables, a dance floor – but it was empty tonight.??
Before I could say anything, Billy had pressed me against the wall and began kissing me.??
"Your number …"??
"Yes, you'll get my number. And more. You just can't be that hot and not know what it does to me."??
Billy continued to kiss me, and my resolve – not strong to begin with – quickly faded. He kissed me hard, and fast, and then pawed at my breasts. He pulled the padded shoulders of my dress down to expose my bra. In one rapid motion he undid the front clip and pushed the straps down over my shoulders.??
"I knew that was all you!" And with that he grasped one breast, while sucking the nipple of the other. I was getting lost with the attention, and the anticipation, when he spoke.??
"Feel that!" And he guided my hand toward his pants. His penis, hot and hard, was already exposed. "Feel it!"??
And I did. Long and thick, he was impressive.??
"Take it out, all the way." I followed direction, and held him in my hands. "Feel those balls?"??I whispered. "Yes."??"See how fucking heavy they are? You did that."??His manner was aggressive, but not menacing. It was clear that he was too aroused to stop, and clear to him that I wasn't going to stop him.??
"You can't do that to a guy and leave him."??
"I came back."??
"You did, and now I get oral escort payback."??
He continued to kiss me as I stroked his penis. Without direction, I dropped to my knees. Looking up at him, from below his swollen penis, I waited for direction. I didn't wait long. He pushed his head into my mouth, then pulled back before pushing in deeper. His manner suggested that this was working for him, and I stroked him hard while accepting as much of him as I could. ??
I was anticipating him, but he confused me. Before he came he pulled from me, pulled me up from my knees, and pushed me back against a table.??
"Payback, remember?"??
Billy grabbed my knees and lifted, which forced my back across the table. "Oh fuck! No panties. You came back for this, didn't you? And look how fucking wet you are!? Alright, don't worry, you'll get it all!"??
Without permission he entered me, slowly but directly, pushing until his balls touched my ass. Instead of pulling back and making love, however, he just held the position, squeezed my left breast, and ran his thumb across my clit. Within moments I could take no more, and he just looked down upon me as I came on his penis.??
"Liked that, didn't you?"??I didn't need to answer.??
"My turn!" And with that he lifted my left leg, rolled my body over, and began thrusting into me. He paid close attention to my body, and eventually realized that I responded best when he was most aggressive.??
"You like it rough, huh?"??He didn't wait for an answer. He took my hair in one hand, used the other to hold my hips, and then began fucking me hard. Very hard. I came for him fast and frequently, and he loved the power. Finally, when I thought I could take no more, I felt him slam deeply inside me. And hold. Then spasm. Then I felt the warmth.??
Billy pulled from me, smiled, and spoke. "Bareback payback is my specialty. Call me tomorrow if you think you can really handle some rough sex."??And with that he left.??
– Part 4 -??
I followed quickly, as I needed to get back to the room. I had been gone longer than expected, and had unexpectedly submitted. But it was very sexy, very powerful, and I felt like a role player in a larger movie.??
Once in the elevator I took off my shoes, and looked at myself in the mirrored walls. My mascara had run, my lipstick smeared, and – just below my now unencumbered cleavage – drops of saliva were visible on my dress. I was a mess, but I was euphoric.??
The elevator stopped and let on a man. He stood opposite me, and stared. I stared back. He was attractive, and I was unrepentant. He and I made eye contact, as Billy flowed from my body, travelled down my leg, and pooled on the floor. ??
"Are you ok?"??
"I am, thank you. Are you?"??
He had no response. Disheveled, and obviously freshly fucked, I had all the power in this dyad. I found it both funny and sexy and, God forgive me, if he had asked I would have gone to his room with him. But he didn't ask, and when the elevator stopped I exited and left the stranger alone with Billy's remains.??
I entered the room quietly and heard my husband's rhythmic breathing – thankfully, he had fallen asleep. I undressed and washed my face, but chose not to shower. I quietly entered the bed, gently woke him with my mouth, and once fully hard, I mounted him. We had amazing sex, and though aggressive for him, he was relatively gentle.??
Afterward he spoke. "Wonderful babe, just wonderful! What a fantastic night. Will you call him tomorrow?"??
"I don't think so. He's a boy. I'm just happy he could bring us together tonight!"